6 Types of Marketing Videos You Should Consider for Your Business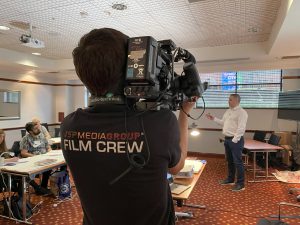 In today's digital age, video marketing has emerged as a powerful tool for businesses to engage with their audience and drive conversions.  With the ability to captivate viewers' attention and deliver information in an engaging format, marketing videos have become an essential part of any successful marketing strategy.  In this blog post, we'll explore six types of marketing videos that you should consider for your business in collaboration with JSP Media Group, highlighting the benefits they offer.
1. Explainer Videos
Explainer videos are a great way to introduce your business, products, or services to your target audience.  These videos provide a concise and compelling overview of what your business does and how it can solve customers' problems.  With JSP Media Group's expertise, you can create visually appealing and engaging explainer videos that effectively communicate your brand's message, making it easier for potential customers to understand and connect with your offerings.
Benefits:
– Simplify complex concepts: Explainer videos break down complicated ideas into easily digestible visuals and narratives.
– Increase brand awareness: By showcasing your brand's unique value proposition, explainer videos help you stand out in a crowded market.
– Boost conversions: Engaging and informative explainer videos have been proven to increase conversion rates and drive sales.
2. Product Demos
Product demonstration videos allow you to showcase your products or services in action, highlighting their key features, benefits, and value proposition.  With JSP Media Group's knowledge, you can create persuasive product demo videos that effectively highlight your offerings and unique selling points.  These videos are particularly effective for e-commerce businesses, allowing customers to experience your products virtually.
Benefits:
– Visualise product benefits: Product demo videos provide a tangible and immersive experience, enabling customers to visualise how your offerings can improve their lives.
– Build trust: Transparently showcasing your products' features and functionality instils confidence in potential customers, leading to increased trust and credibility.
– Reduce returns and increase sales: Clear demonstrations help customers make informed purchasing decisions, resulting in lower return rates and higher conversion rates.
3. Testimonials and Case Studies
Testimonial and case study videos feature satisfied customers sharing their positive experiences with your brand.  These videos serve as powerful social proof, building trust and credibility among your target audience.  JSP Media Group have produced over a thousand testimonials since 2009 so are well-versed in capturing your customer's responses.  They can create authentic and compelling testimonial videos that resonate with your potential customers, encouraging them to choose your brand.
Benefits:
– Establish credibility: Genuine testimonials from satisfied customers validate the quality and effectiveness of your products or services.
– Humanise your brand: Testimonial videos put a human face on your brand, making it easier for potential customers to relate and connect with real-life experiences.
– Influence purchase decisions: Positive testimonials and case studies can be the deciding factor for potential customers, increasing the likelihood of conversion.
4. Brand Storytelling
Brand storytelling videos allow you to communicate your brand's values, mission, and culture effectively.  These videos create an emotional connection with your audience, evoking their curiosity and leaving a lasting impression.  Working with JSP Media Group, you can create captivating brand storytelling videos that engage viewers and foster brand loyalty.
Benefits:
– Forge emotional connections: Brand storytelling videos create a sense of authenticity and emotional resonance, helping customers develop a deeper connection with your brand.
– Differentiate your brand: By showcasing your unique brand story, you can differentiate yourself from competitors and position your brand as more relatable and trustworthy.
– Enhance brand recall: Compelling storytelling videos make a lasting impression on viewers, increasing brand recall and recognition.
5. Educational and How-to Videos
Educational and how-to videos provide valuable information to your target audience, positioning your brand as an industry expert and a reliable source of knowledge.  Over at JSP Media Group, they can create informative and visually appealing videos that educate and empower your audience, establishing your brand as a go-to resource.
Benefits:
– Establish thought leadership: Educational videos showcase your expertise and position your brand as an authority in your industry, building trust among potential customers.
– Drive website traffic: By offering valuable information, educational videos can drive traffic to your website, increasing your visibility and attracting new customers.
– Nurture customer loyalty: Providing helpful tutorials and tips, helps customers achieve success with your products or services, fostering long-term loyalty.
6. Behind-the-Scenes and Culture Videos
Behind-the-scenes and culture videos provide an inside look into your company's operations, values, and team.  These videos humanise your brand, giving customers a glimpse of the people behind the products or services they love.  At JSP Media Group, they create authentic and engaging behind-the-scenes videos that resonate with your audience.
Benefits:
– Foster brand loyalty: Behind-the-scenes videos create a sense of transparency and authenticity, fostering a deeper connection between your brand and customers.
– Attract top talent: Culture videos showcasing your company's work environment and values can attract top talent who resonate with your company's culture.
– Showcase brand personality: By giving viewers a glimpse of your brand's personality, these videos help differentiate your business and make it more relatable.
Video marketing has revolutionised the way businesses communicate with their audience. Working with JSP Media Group can help you harness the power of video marketing and create compelling videos that drive engagement, boost conversions, and strengthen your brand.  By incorporating these six types of marketing videos into your strategy, you can effectively connect with your target audience, showcase your offerings, and drive business growth in an increasingly digital world.
If you'd like to speak to our Creative Director here at JSP Media Group regarding an upcoming project, call us on: 01276 61777.  Or you can contact us here.
#YourVisionOur Business #VideoMarketingWorks