How Video Content Helps Strengthen Your Brand to Increase Sales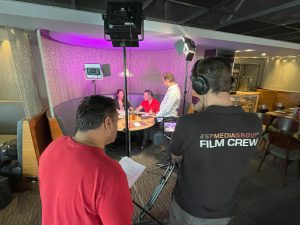 In today's digital age, where attention spans are shrinking, video content has emerged as a powerful tool for businesses to engage with their audience and strengthen their brand. With its ability to convey information, evoke emotions, and leave a lasting impression, video has become a preferred medium for consumers and marketers alike. In this blog, we will explore the ways in which video content can help your business enhance its brand and drive sales.
Captivating and Engaging Storytelling
One of the greatest strengths of video content is its ability to tell stories in a captivating and engaging manner. By combining visuals, audio, and narrative elements, videos have the power to create a strong emotional connection with viewers. This connection allows your brand's message to resonate with your target audience, leaving a lasting impression that fosters brand loyalty.
Whether it's a brand story, product demonstration, or customer testimonial, video enables you to convey your message in a dynamic and memorable way. By leveraging the power of storytelling, you can communicate your brand's values, showcase your unique selling proposition, and create an emotional bond with your audience.
Increased Online Visibility and Reach
Video content has the potential to significantly increase your online visibility and reach. With platforms like YouTube, Vimeo, and social media networks placing a strong emphasis on video content, businesses can leverage these platforms to expand their audience and reach new potential customers.
Furthermore, video content is highly shareable and has the potential to go viral, thereby increasing its organic reach. By creating valuable and compelling video content that resonates with your target audience, you can encourage shares, likes, and comments, leading to increased brand exposure and organic growth.
Improved Search Engine Optimization (SEO)
In addition to increasing your online visibility, video content can also boost your search engine rankings. Search engines, such as Google, prioritize video content in search results, giving businesses that invest in video a competitive edge.
By optimizing your video content with relevant keywords, metadata, and transcripts, you can enhance its discoverability and improve your website's overall SEO. The more visible your video content is in search results, the more traffic it will drive to your website, increasing the chances of conversion and sales.
Effective Product Demonstrations and Reviews
Video content is an excellent medium for showcasing your products or services in action. By creating informative and visually appealing product demonstration videos, you can effectively highlight the features, benefits, and value of your offerings. This enables potential customers to gain a better understanding of your products, leading to increased trust and confidence in your brand.
Similarly, customer testimonial videos can be a powerful tool to influence purchasing decisions. Authentic and compelling testimonials from satisfied customers help build social proof, showing potential buyers that your products or services deliver on their promises.
Enhanced Social Media Engagement
Social media platforms thrive on video content. Whether it's Facebook, Instagram, Twitter, or LinkedIn, videos consistently outperform other forms of content in terms of engagement metrics. By incorporating video content into your social media strategy, you can increase user engagement, reach a wider audience, and build a stronger social media presence.
Furthermore, live streaming videos, behind-the-scenes glimpses, and interactive video campaigns can generate excitement, encourage user participation, and foster a sense of community around your brand.
Conclusion
In today's digital landscape, video content has become an essential tool for businesses to strengthen their brand and boost sales. Using JSP Media Group by leveraging the power of captivating storytelling, expanding online visibility, improving SEO, providing effective product demonstrations and reviews, and enhancing social media engagement, businesses can create a powerful video marketing strategy that drives results.
To stay ahead of the competition and connect with your target audience, it's crucial to invest in high-quality video production that really makes your investment work.
If you'd like to speak to our Creative Director here at JSP Media Group regarding an upcoming project, call us on: 01276 61777. Or you can contact us here.
#YourVisionOur Business #VideoMarketingWorks #CareHomeVideoMarketing #NursingHomeVideoMarketing